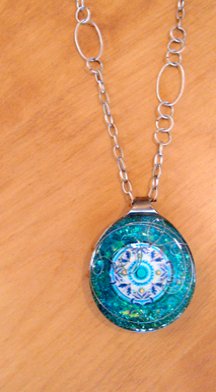 A stainless steel spoon is the canvas for each original handmade pendant, which comes on one of our 16" (Mini) or 24" (Small and Original) metal chains with a lobster clasp
Since each piece is made by hand, the pendant you receive may be slightly different from the original pendants pictured in the Online Store
Each SpoonFed Art pendant is made to order and will take approximately 2-3 weeks to complete
There are 3 sizes of pendants, the measurements of which are:
* Mini Pendants - 1 1/2" tall by 1" wide
* Small Pendants - 2" tall by 1 1/4" wide and
* Original Pendants - 2" tall by 1 1/2" wide

SpoonFed Art takes online payments through PayPal; Shipping fees are based on the "ship to" address and are added during checkout
As soon as your package ships, you'll receive tracking information so you'll know the status of your shipment

If you're outside the US, please email us as shipping costs, tracking, and arrival dates vary

Commissioned Pendants:
Please email us for details and pricing of commissioned artwork. Commissioned pieces are all one-of-a-kind and prices start at $150.
Returns and Exchanges:
Each SpoonFed Art piece is made to order, specially crafted by hand, and packaged with extreme care. We don't offer returns for refund but if your piece is damaged in shipping, we're more than happy to repair or replace it for you. All exchanges should be requested immediately upon receipt.
All SpoonFed Art shipments are packaged with materials that are as biodegradable and/or recyclable as possible!